Jiu Jitsu Will Help Your Child Grapple With Any Challenge in Life!
Here at Checkmat Charlotte, we're offering kids from across Charlotte, Steele Creek, Fort Mill, and beyond the opportunity to learn important lessons about teamwork, self-confidence, discipline, and respect... and they'll have a fun time wrestling, playing interactive games, and staying active while they're at it! Our professional instructors will keep an eye on your child, provide them with positive role models, and make sure they are focused and attentive.
The martial arts aren't just about punching and kicking. They're about developing strong values and creating positive personal growth. That's what we want to offer children from around the Fort Mill and South Charlotte areas... the chance to be the very best they can be. Enroll your child in our Power Pawns program and see for yourself!
Just fill out the short form on your screen to learn more!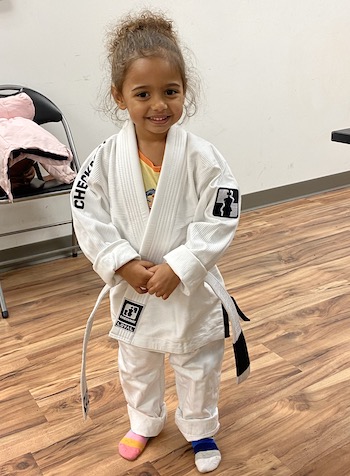 Why Choose Kids Jiu Jitsu?
Training in the martial arts will help set your child up for lasting scholastic and professional success. They'll develop critical values that will help them in all walks of life, not just on the mats.
As they strive toward the next belt, they'll learn smart goal-setting and the value of hard work. When they wrestle with their new friends and drill on techniques, they'll learning teamwork and leadership. When they practice the exact techniques to perfect their form, they'll gain discipline and focus.
The goal of our Kids Jiu Jitsu classes is to start with the fundamentals and build upwards, developing our students into strong and dedicated youths. Checkmat Charlotte wants to give back to the community that supports us, and we're doing so through the martial arts... from Ballantyne, Fort Mill, to Steele Creek and beyond.
Our awesome Kids Jiu Jitsu classes in South Charlotte offer:
Improved self-confidence and self-discipline
Enhanced focus, resulting in better performance at school
Better teamwork and leadership skills
Positive role models who will provide guidance and advice
And Our Kids Jiu Jitsu Classes Are Fun!
Not only will our jiu jitsu classes offer tremendous mental and spiritual benefits, but your child will love them! They're active and tons of fun. Checkmat Charlotte's innovative training system introduces games and fun activities into the training routine, keeping kids focused and moving. They'll gain increased agility, flexibility, strength, and establish lifelong habits of physical activity. We even teach self-defense and non-violent bully prevention strategies! Our members come to us from South Charlotte, Fort Mill, Ballantyne, and all over to take advantage of this incredible opportunity.
Our Kids Jiu Jitsu classes will give your child:
Better hand-eye coordination
Improved strength & flexibility
Bully prevention skills
Lifelong habits of physical fitness

Check Out The South Charlotte Area's Best Kids Jiu Jitsu Classes Today!
Checkmat Charlotte is proud to be able to offer our community the chance to take on real jiu jitsu training from certified black belts. The martial arts offer so many physical, mental, and spiritual benefits, and they're guaranteed to set your child up for lasting success. Join us in South Charlotte and take advantage of your FREE WEEK of classes!
Just fill out the short form on your screen to learn more!